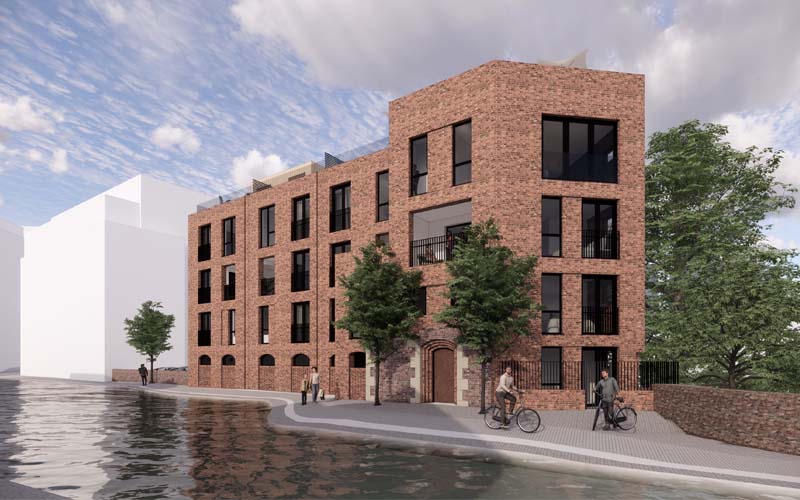 Victor, the development arm of MC Construction, has gained planning approval for its first scheme – four modern mews houses in a cobbled courtyard in the emerging Piccadilly East neighbourhood of Manchester city centre.
The proposals, which have received the green light from Manchester City Council's planning and highways committee, are for four-storey townhouses on Ducie Street with designs by architects Corstorphine & Wright. Paul Butler Associates acted as planning consultants.
The houses will be constructed on land which is presently a car park and lies at the south east corner of Paradise Wharf, next to 'The Stables,' a converted Grade II listed commercial block wholly owned by Victor. The southern elevation, which will be the rear of the properties, will overlook the Ashton Canal.
With three bedrooms, open-plan living spaces, roof terraces, large recessed balconies and integrated garage, cycle and storage areas, the homes are designed to appeal to families seeking the convenience of the city centre from a sustainable location, close to transport links.
The development will be called Paradise Mews and, to blend with the heritage surroundings, the houses will be built mainly from red brick with small, recessed pop-ups in glazed cladding providing access to the roof terraces.
The provision of significantly sized homes will add to the mix of housing provision in an area set to experience significant activity. The recently-completed Oxygen Tower sits on nearby Store Street, where plans have been approved for Clarion Housing Group and H20 Urban to deliver 66 apartments for shared ownership and for developer M1 Piccadilly to build a luxury gold residential tower.
McCauls' Laystall Street scheme will deliver 89 discounted homes along with 8,000 sq ft of workspace. The council has also granted permission for a three-year period for a mixed-use development with retail, office and leisure facilities, including a beer hall and night market, at the former Presbar Diecastings site next door to Paradise Wharf.
Mike Purcell, a director of MC Construction and Victor's development director, said:
"We have been securing brownfield sites in close proximity to transport hubs for several years and are pleased to have received consent for our first Victor development.

"MC Construction will act as main contractor for the scheme, which utilises our in-house resource and ensures we oversee the development throughout the construction phase.

"Since purchasing the site in 2018 from architect Ian Finlay, we have seen strong investment and development in Ancoats and, more recently, in the immediate vicinity. We are delighted to build on Ian's work which commenced in the 1980s when he showed both foresight and courage in his restoration of The Stables."
Ian Finlay said:
"The designs present a set of stunning high-end homes in what is fast-becoming a highly-desired location. We named the site Paradise Wharf at a time when the area was anything but utopian and described as a twilight zone. Witnessing the continued transformation of this part of Piccadilly is a long-held aspiration."
David Lowe, managing director, said:
"The city centre is currently dominated by a multitude of high-rise apartments and very few houses, a gap we are helping to address, albeit in a modest way. This scheme will provide much-needed family homes in the city centre."
Work is due to start in early 2023 with practical completion expected approximately 12 months later.