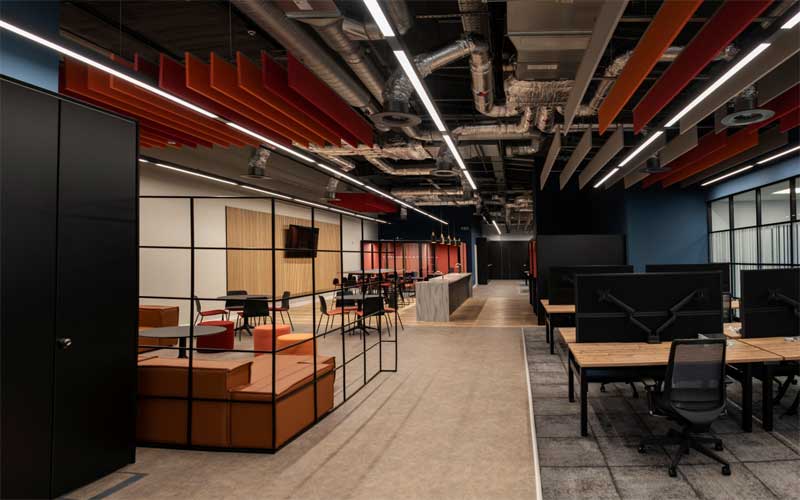 A £1.5m revamp of the headquarters of Master Builders Solutions UK to accommodate an expanding workforce has been completed by an MC Construction team.
We were the main contractor for the project. Gardiner & Theobald was the project manager and provided design and cost services to Master Builders Solutions UK. The architect was Fletcher Rae.
Master Builders Solutions UK, which is based in Swinton, Greater Manchester, manufactures and distributes construction chemicals used in new-build, maintenance, repair and renovation schemes. Its products include concrete admixtures and solutions for underground construction, waterproofing, sealants, flooring and grouts.
The business, which also has operations in Redditch and Rochester, was part of BASF before it was sold to an affiliate of global private equity firm Lone Star in 2020.
Following the deal, space was required at Swinton for sales and administrative staff transferring from offices in Cheadle, as well as a number of new recruits.
To accommodate them, the site's warehouse has been reconfigured.
Our team carried out demolition and strip-out works, installed foundations and then reconfigured the building to create a reception area, new offices on the ground floor and a new mezzanine floor, and to expand the company's concrete admixture development laboratory to enable it to keep pace with growing demand. The lab is used for product development and customer trials.
External works carried out as part of the project included the installation of new charging points for electric cars. The scheme was completed in 26 weeks in a live working environment. A total of 40 staff are now based at the site.
David Lowe, managing director of MC Construction, said:
"It has been a great pleasure to deliver this project for Master Builders Solutions UK.

"Reconfiguring the site warehouse to incorporate new modern open-plan offices within a live environment was logistically very challenging.

"Our ability to provide innovative solutions, as well as the collaboration between ourselves and the client team, proved key to the successful delivery of this scheme.

"We are very happy with the final product and I am grateful to our entire team for their hard work and expertise. We are looking forward to working with Master Builders Solutions UK further in the future."
Geoff Birchall, head of operations at Master Builders Solutions UK, said:
"With the requirement to create additional office space for existing staff and new recruits, we wanted to choose a local partner that we could trust, not only with the building aspect but also with ongoing support and maintenance.

"An extensive procurement process led us to MC Construction, whom we appointed based on their local expertise and quality. During the build, we were happy with how the project was planned and managed. The result is excellent and our employees are delighted with the new facilities."