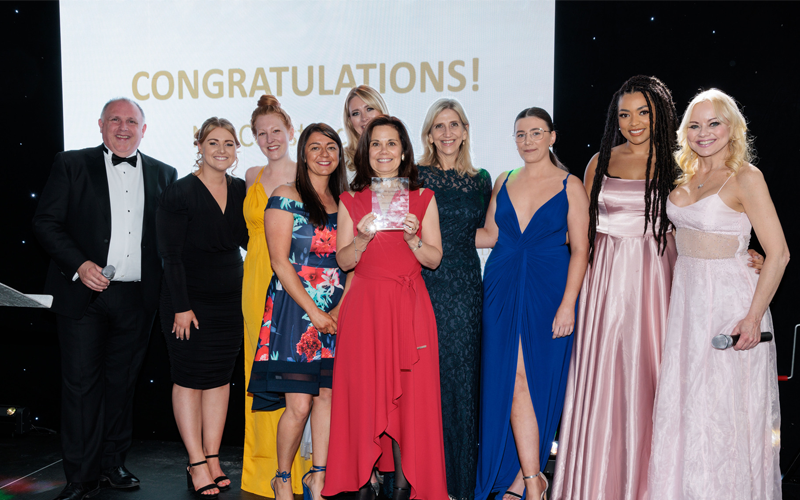 We are thrilled to have recently been honoured for our fundraising efforts in aid of North West Cancer Research, which was our charity of the year for our Golden Jubilee year in 2021.
We won the charity's Corporate Supporter of the Year award at a gala dinner and ceremony held at the Isla Gladstone Conservatory in Liverpool.
North West Cancer Research is an independent charity dedicated to tackling cancer across the north west and North Wales. Its team aims to tackle the causes of the disease and prevent it, to improve the care of those who are diagnosed with it and, ultimately, to find a cure.
Our staff undertook a variety of fundraising activities, including a skydive, the National Three Peaks Challenge, the Great Manchester Run, Tough Mudder, the company's annual Golden Trowel golf tournament, raffles and a Bake-Off.
Their tremendous efforts meant we smashed our target of £10,000 to raise a total of £11,169. The money is being used to fund a year's laboratory costs for research into early detection of prostate cancer, the most prevalent form of male cancer in the region.
In addition, we undertook an extensive campaign to raise awareness among staff, their families and friends and the company's supply chain. This included the distribution of leaflets and posters at its offices and site cabins, and social media postings on healthy living tips and early warning signs. Alastair Richards, chief executive of North West Cancer Research, said:
"MC Construction chose to support the charity to mark its golden jubilee and the entire workforce got behind the fundraising with a great variety of events throughout the year.
"Not content with smashing its target, the company set about raising awareness of cancer prevention among its staff and clients, making it a very worthy winner of the North West Cancer Research Corporate Supporter Award 2022."
Our managing director David Lowe said:
"North West Cancer Research raises vital funds for painstaking research which saves lives, and we were proud to support the charity in our golden jubilee year.
"It's a local charity which is close to the hearts of everyone in the business, and the whole team got behind our fundraising efforts from day one.
"Thanks to their tremendous efforts we smashed our fundraising target and the money is funding laboratory research at the University of Liverpool which will hopefully make a huge difference in years to come.
"Most cases of prostate cancer are discovered too late, mainly because men are too afraid or embarrassed to go for a check-up. The lab project hopes to discover ways to improve detection rates through urine samples.
"We wish the research team every success, and we are thrilled that our efforts to support them have been recognised with this award."