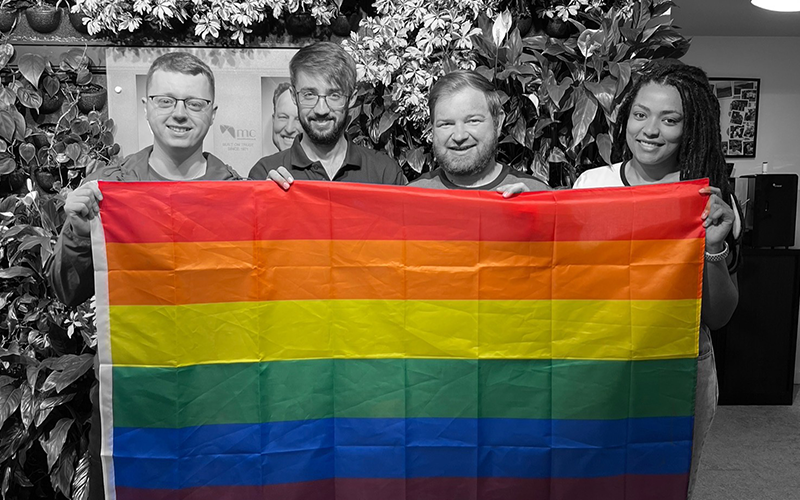 Pride Month is celebrated every June as a tribute to those who were involved in the Stonewall Riots. This month at MC Construction we're getting ready to dust off our rainbow flags, douse ourselves in glitter, and go join in the fun! With parades, festivals, and concerts going on across the globe, this year we are getting involved by decorating our office, changing our company logo and asking all our site teams to wear rainbow laces — as well as teaching everyone some important social history along the way.
History of Pride Month:
On a hot summer's night in New York on June 28, 1969, police raided the Stonewall Inn, a gay club in Greenwich Village, which resulted in bar patrons, staff, and neighbourhood residents rioting onto Christopher Street outside. Among the many leaders of the riots was a black, trans, bisexual woman, Marsha P. Johnson, leading the movement to continue over six days with protests and clashes. The message was clear — protestors demanded the establishment of places where LGBT+ people could go and be open about their sexual orientation without fear of arrest.
Pride has been celebrated all over the world every June since.
This year marks the 55th anniversary since it stopped being illegal for two men to be in a relationship in England and Wales.
This is called the decriminalisation of homosexuality, and meant that this wasn't going to be a crime any more. The law changed in Northern Ireland and Scotland later, but it was never illegal for two women.
Even though the law changed in the UK, it is still illegal to be gay in some parts of the world. Campaigners continue to work hard to get equal rights for gay people all over the world.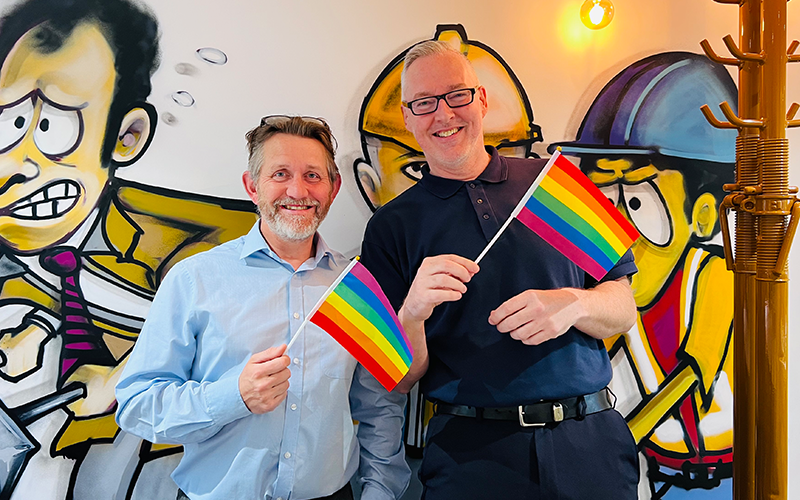 Homosexuality was often treated as an illness by doctors and psychiatrists, who thought they could 'heal' people by treating them. Lesbian, gay, bisexual and transgender people were often forced to hide their identities from their families, friends, colleagues and in public to avoid the risk of being singled out, harassed or becoming a victim of violence.
There were laws that stopped gay people from having the same rights as people who were not gay. For example, gay people couldn't get married or adopt children. Up until 1967, gay and bisexual men could face a maximum sentence of life in prison if they broke the law around homosexuality.
In the 1950s, a group was set up to look at the way gay men were treated by the law. It put together a report for the government that recommended that the law should be changed. The government did not make the changes at first and more people started to campaign for the rights of gay people.
Eventually, the law was changed in 1967, which allowed two men to be in a relationship together without the fear of being arrested.
Even though this happened, there were still many laws in place at the time which meant that gay people did not have the same rights as people who were not gay.
More gay men were arrested after 1967 for things which they would not have been arrested for if their partner had been a woman.
Now, the government has agreed to officially pardon the men accused of 'crimes' like this. Being pardoned means they will no longer have a criminal record.
It was first announced that this was going to happen last year. But now, it has received royal approval.
This pardoning has come to be known as the Alan Turing law.
Alan Turing was a man who cracked codes during World War Two. He was gay and convicted because of this. In 2013, he was pardoned for this 'crime', after his death in 1954. Being pardoned after death is called being posthumously pardoned.