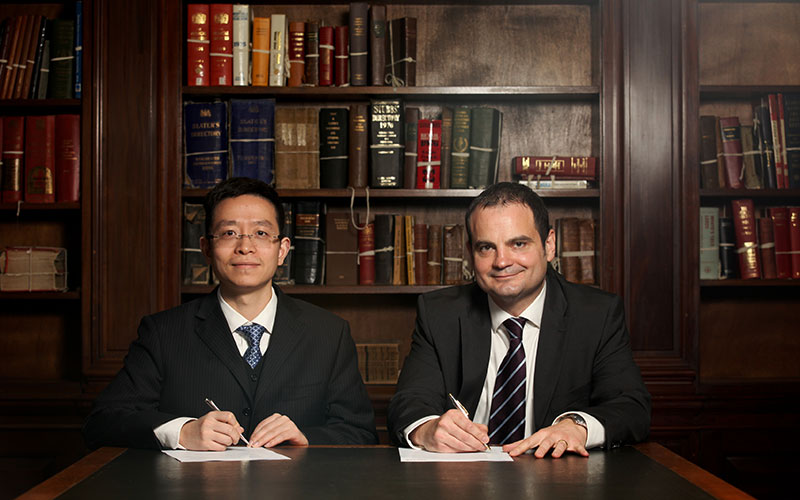 Manchester & Cheshire Construction has formed an alliance with a Chinese developer to buy sites for residential schemes in Greater Manchester.
The agreement is with the Chongqing Jinstar Real Estate Development Company.
The companies will form The Anglo-Chinese Alliance to bid for sites focused on helping Manchester Place achieve its target of 55,000 new homes by 2027.
Michael Purcell, development director of Manchester & Cheshire Construction, and Steve Yang, Jinstar's director of international co-operation, have signed a memorandum of understanding to launch the joint venture.
Mr Yang was part of a Chinese trade mission which was in the UK to coincide with the recent state visit of President Xi Jinpin.
Manchester Place is a partnership between Manchester City Council and the government's Homes and Communities Agency which aims to speed up the supply of new homes across the city.
Manchester & Cheshire Construction and Jinstar were introduced earlier this year by Gibbs Investment, the Chinese company's retained professional adviser in the UK.
Jinstar visited Manchester & Cheshire Construction in the summer and met with Deborah McLaughlin, chief executive of Manchester Place, on a recent trade mission to China.
Michael Purcell said:
'We are delighted to enter into this strategic partnership with Jinstar, whose financial backing, major project experience and UK ambitions are an ideal match for us.'

'We aim to deliver high-quality residential projects in Greater Manchester, helping to meet the region's housing needs in line with Manchester Place's targets.'

'There is a true synergy between the two family firms which will be of great benefit to the region.'
Jinstar, which was founded 18 years ago, has been involved in development projects for hotels, offices, shops, homes, student accommodation and shopping malls.
The alliance with Manchester & Cheshire Construction is its first venture in the UK.
Mr Yang said:
'It is a golden time for China-UK relations and we are keen to grasp this precious opportunity to enter the UK market, especially since both Prime Minister David Cameron and Chancellor George Osborne promoted the Northern Powerhouse to us.'

'We believe that by combining the strengths of Jinstar and Manchester & Cheshire Construction we can contribute to the masterplan for the future prosperity of Manchester.'
Other professionals appointed to work with the ACA include architects The Oval Partnership, engineering consultancy Clancy Consulting and Simon Fenton Partnership, a Manchester firm of quantity surveyors and project managers.
This story was featured in the Manchester Evening News and Insider Media.