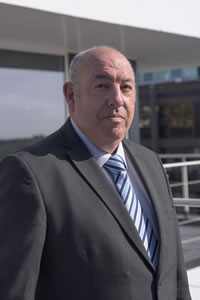 Manchester & Cheshire Construction has appointed a business growth expert as its first-ever chairman.
Peter Collins has joined the board in a non-executive capacity as the company seeks to more than double annual revenues over the next three years.
Peter, who lives in Longton, near Preston, is a main board adviser to 30 north west companies and holds several other non-executive posts across the region.
He was a co-founder of Fast Forward Growth, a Manchester-based organisation which advises companies on their expansion and funding strategies. He is also a director of Access to Finance, which operates across the north west, and is a registered coach for the government-backed GrowthAccelerator programme.
His first consultancy, Management Services International, which he founded in 1990, was later ranked as one of Britain's 20 fastest-growing companies.
David Lowe, managing director of Manchester & Cheshire Construction, said:
'We have been working with Peter in a less formal capacity for some time and we have found his input to be invaluable.'

'His appointment as our first-ever chairman brings his skills further into the mix.'

'He points us in the right direction, challenges our traditional way of thinking and provides a sounding board for new ideas.'
David added:
'We have enjoyed strong growth in recent years and now is the right time to seek external expertise to guide us towards our target of achieving turnover of £20m by 2018.'

'Peter is the ideal person to help us meet our goals. He has a wealth of experience in dealing with high-growth companies and, as chairman, he will be able to help us build new relationships and act as an ambassador for the business.'

'A large part of our growth plan is centred on our new development division led by Michael Purcell, and Peter also has vast experience in this area.'
Peter said:
'With a strong trading history, robust balance sheet, highly-reputable project portfolio and repeat client list, Manchester & Cheshire Construction is ripe for increased momentum and I am looking forward to using my experience and skills to help the company realise its growth plans.'
This story was featured in the Manchester Evening News