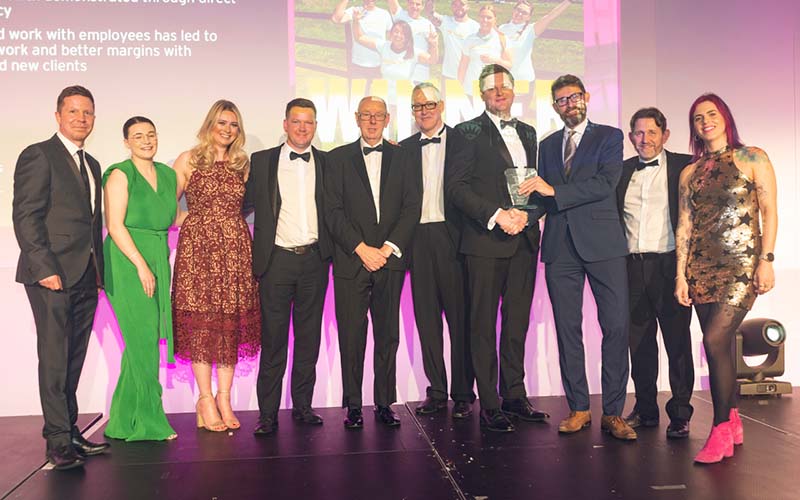 Everyone at MC Construction is thrilled to be celebrating a double triumph at the North West Regional Construction Awards.
We won the SME of the Year and the People Development accolades at the 15th annual North West Regional Construction Awards, which were presented at a gala dinner held at Liverpool's Titanic Hotel.
Now we go forward in each category to the Constructing Excellence National Awards, which will take place in London on Friday, January 28.
Managing director David Lowe said the awards were a fitting tribute to the memory of the company's co-founders, his father Charlie Lowe and John Purcell, who have both passed away within the past 12 months.
The award judges said our growth in recent years has been partly due to our direct labour policy, which formed part of the duo's founding principles back in 1971 and has remained in force.
The judges also praised the business for our desire to change and improve, and for our approach to our employees, suppliers, customers and the communities where we operate.
David Lowe said:
"We are thrilled to win not one but two awards. They are a wonderful way to mark our 50th anniversary and to recognise the legacy that John and Charlie created.

"Our founders had a strong focus on people development, and we have continued to operate in that way down the years. It's great to be acknowledged with an award for our approach of placing trust in our employees and empowering them to deliver great results.

"The SME of the Year award reflects the phenomenal team effort by our amazing employees as we pulled together to fight through the pandemic."
We scooped the SME of the Year award for the second time in five years.
David said:
"We have shown tremendous resilience and tenacity over the past 12 months, improving efficiencies, safeguarding jobs and expanding our client base to grow turnover, while maintaining our family ethos and strengthening MC Construction as a great place to work while continuing to deliver excellent results for our customers.

"We have also invested in technology and new staff to ensure we are well-placed for the future."
The People Development prize was awarded for the way we nurture our workforce through training initiatives, education, mentoring and support.
It is the second time the company has won the category, following our success in 2017.
David said:
"The retention and progression of our staff is very important to us. Cultivating young talent and retaining expertise are key, and we pride ourselves on giving opportunities to long-term unemployed people.

"We fund up to 80 per cent of university course fees for staff, and run courses and groups to help young people within the business to acquire the skills that can prepare them for management roles.

"Over the past year we have also introduced our own MC Academy to transfer knowledge and continually up-skill our employees.

"We have come out stronger as a result of the pandemic, improving our ways of working and introducing new methods. We've protected our people so no-one lost their job, and have been building for the future through initiatives such as the MC Academy.

"We are extremely proud of our heritage and equally proud of our people, our engagement with communities and of giving back to the areas we develop, and we look forward to the next 50 years with confidence."
The attached photograph shows members of the MC Construction team at the awards ceremony.