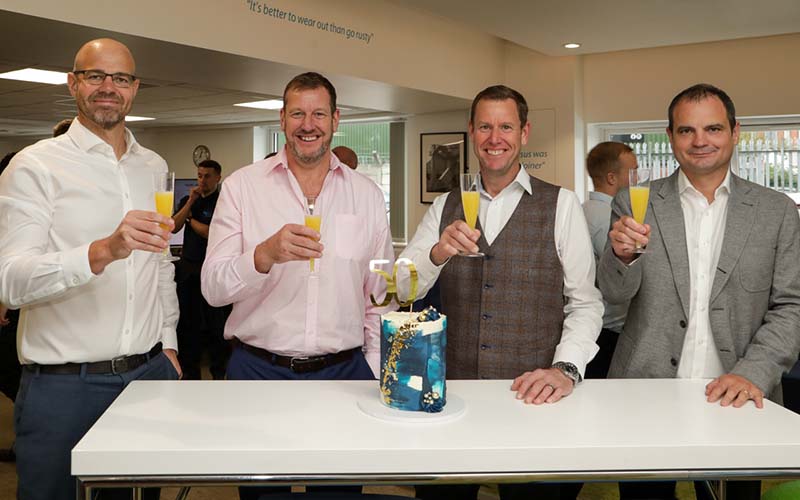 MC Construction is toasting a strong performance in its latest financial year, with revenues beating expectations to reach £15m as the family-owned company celebrates its golden jubilee.
The Salford-based business saw a 36 per cent increase in turnover in the 12 months to September 30, well ahead of its target at the start of the year.
Managing director David Lowe said MC Construction has begun the new financial year with a healthy order book, including a record number of projects in the run-up to Christmas, which is traditionally a quiet time. Its strong performance has led to the recruitment of nine new staff.
David's father Charlie Lowe and John Purcell founded the business in 1971. John's sons Mike and Chris along with David and his brother Ian are currently serving as directors.
This year sees David celebrating 40 years with the business, having joined as an apprentice bricklayer in 1981.
Highlights during the recent financial year included being appointed as the principal contractor for a £7m indoor attraction based on the blockbuster ITV Show I'm a Celebrity…Get Me Out Of Here.
The I'm a Celebrity…Jungle Challenge opened in July at Quayside MediaCityUK, formerly known as the Lowry Shopping Centre.
New clients for the award-winning company over the past 12 months include Trafford Council, THG and Master Builders Solutions UK.
MC Construction was reappointed to Cheshire East Council framework and secured a place on the £1.6bn LHC public buildings construction and infrastructure framework.
The company strengthened its board with the appointment of vastly-experienced industry professional Nigel Rawlings as a non-executive director, and created the MC Academy to up-skill staff, transfer knowledge and share best practice across its workforce.
MC Construction, which employs 60 people, undertakes building projects throughout the north west with a focus on the commercial, education, heritage, hospitality, industrial, local authority, social housing and healthcare sectors.
David Lowe said:
"Although we inevitably felt the impact at the beginning of the Covid crisis, existing clients have returned with vigour and we have also secured a good number of new clients over the past 12 months.

"Towards the end of our most recent financial year, our order book was full, and our performance for the 12-month period was well ahead of our expectations, which is quite an achievement given market conditions.

"Following a healthy and successful year we are pleased to have secured a record number of projects for the pre-Christmas period, which traditionally is a quiet time of the year, and our order book is now full until March 2022."
During 2021, MC Construction has raised over £10,000 for North West Cancer Research as part of its golden jubilee celebrations. The money will be used to fund laboratory equipment for a project investigating better diagnostics for prostate cancer, which is the most prevalent form of male cancer in the region.
David said:
"Working with a local charity was important to us, and our staff really got behind the fundraising efforts.

"To mark our golden jubilee, we have launched Project 50 to plan for the future and keep us focused on our core objectives. With strong employee input, the board is developing this further to help us cement our position for the years ahead as a highly-trusted north west contractor."