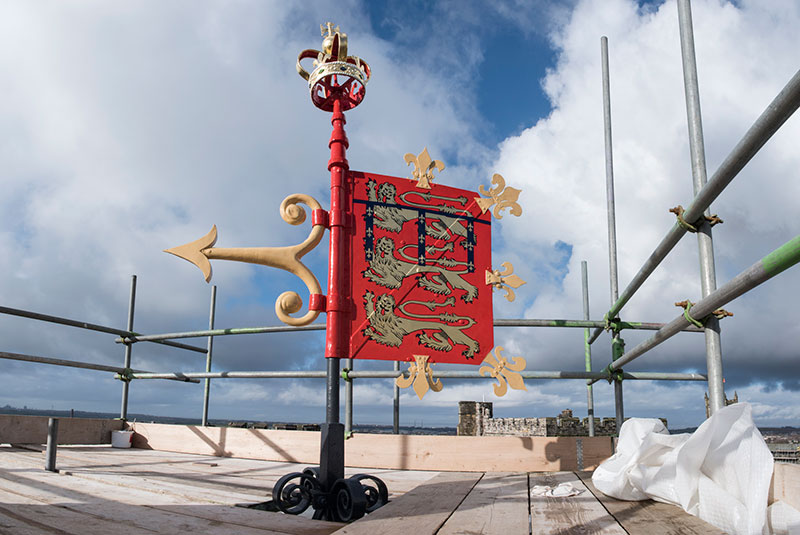 The building conservation team at Manchester & Cheshire has played a key role in a project to refurbish and re-install an historic weather vane at Lancaster Castle for the Duchy of Lancaster.
The work was carried out as part of a wider repair and restoration scheme at the castle.
The origins of the 40kg weather vane, which is made from copper, iron and lead, are thought to date back to around 1727, although it may have been erected as part of repairs in the 1690s after the English Civil War.
It stands on a stone block which fills the whole of the north east turret lookout post at the top of the John O'Gaunt Gate.
For the restoration project, historical records were used to match the vibrancy of the colours and reproduce the design as faithfully as possible.
The work was carried out by our building conservation team, including site manager Gary Shea and contracts manager Gareth Robinson, in partnership with specialist metalworkers Calibre Metal and heritage sign writers Martin Rooney. The project was overseen by the Duchy's heritage architect, Alan Davies of BDP.
Graeme Chalk, Duchy head of project management, said:
'All of the work that we are doing at Lancaster Castle is designed to restore and preserve the historic fabric of the buildings.'
'We felt that the restoration of the weather vane was an integral part of that process and we are delighted with the skilled workmanship that has brought it back to its former glory.'
'It now stands proudly at the top of the Gatehouse looking over the city, where it has stood for at least 300 years and where we hope it will remain for future generations.'
Gary Shea said:
'We are extremely pleased to be involved with the repair and restoration scheme at Lancaster Castle. This is another example of how our expertise is bringing about successful heritage projects around the north west.'