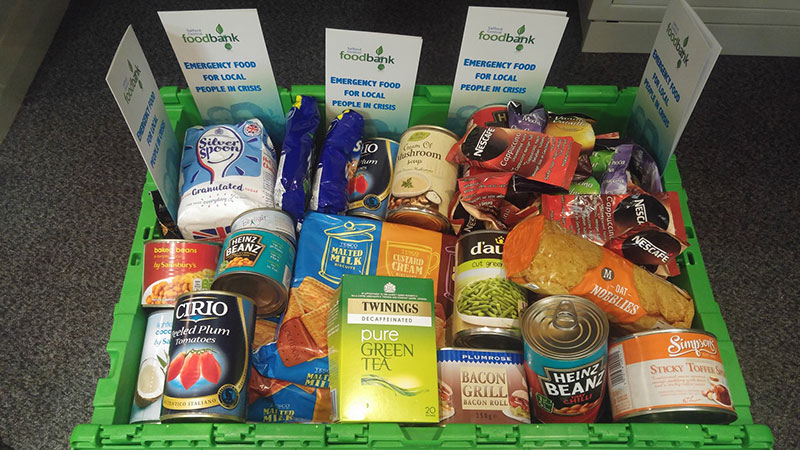 Foodbanks in the north west are being given a boost thanks to the generosity of Manchester & Cheshire Construction staff.
An appeal to support the Trussell Trust's Salford Central Foodbank in the run-up to Christmas saw our employees fill a bin with tinned food, teabags, coffee and biscuits to help less fortunate families across the city.
Another bin is now being filled at our head office in Salford, and we have one at our site office at Lancaster Castle, which once full will be taken to the trust's foodbank in Morecambe.
The Trussell Trust is an anti-poverty charity which operates 428 foodbanks nationwide to provide emergency supplies for people in crisis.
Emma Dolan, business development assistant at Manchester & Cheshire, said:
'We are committed to supporting local charities and the Salford Central Foodbank is a very worthy cause which is dedicated to helping local people in crisis.'
'Our staff understand that by making a small donation they can make a real difference to people's lives.'
'We now have a collection bin at our site at Lancaster Castle where our own staff as well as other contractors can donate items.'
'It's our aim to have a bin at every site where we are working on long-running projects.'
Mark Whittington, manager of the Salford Central Foodbank, said:
'We rely on local businesses to support us and we are extremely grateful to Manchester & Cheshire Construction for their donations.'
The Salford Central Foodbank is run in partnership with local churches and has sites at Mocha Parade in Lower Broughton and Dallas Court at Salford Quays.
It distributed 3,929 emergency parcels last year, a rise of 20 per cent on 2015. It works with 85 referral agencies who identify people in need and issue them with a voucher entitling them to a three-day supply of nutritionally-balanced, non-perishable food.
You can find out more about the Salford Central Foodbank via salfordcentral.foodbank.org.uk.
For more information on the Trussell Trust, visit www.trusselltrust.org.