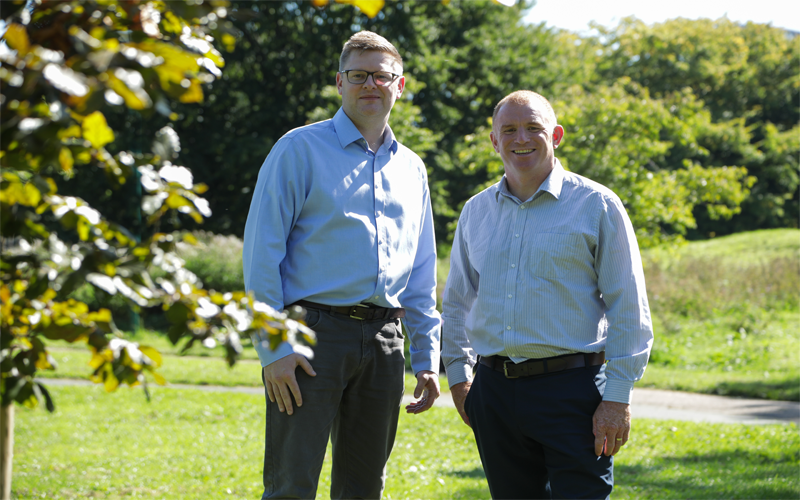 We are delighted to announce that we have teamed up with environmental business Play It Green to reduce our carbon footprint.
In doing so we are the first construction business to join Play It Green's Climate Positive Workforce programme, as we step up our drive to lower our carbon emissions and to progress towards becoming a net zero operation by 2038.
We have signed up our entire 60-strong team to Play It Green's online subscription service. For a monthly fee, every staff member will receive weekly tips, discounts, education and tools to help them and our business reduce our footprint. A total of 780 trees will be planted each month on behalf of our staff.
In addition, as part of the same subscription, the North West Air Ambulance Charity will receive a regular donation as our charity of the year. Ten per cent of Play it Green's revenues go to each member's chosen good cause.
Play It Green, which was launched in 2021 by Chris Thair and Richard Dickson, is based in Manchester. The B Corp accredited business has grown to have subscribers across nine countries, including Sri Lanka, Germany and Australia as well as the UK.
Among Play It Green's members are Warrington Wolves RLFC, basketball team London Lions, Shire Leasing, Ecoegg, Levitex, Ikonic Technology, Affirmative Finance, Dains Accountants, Manchester Central and The Regency Club London.
Russ Forshaw, managing director of MC Construction, said:
"The impact of the construction industry is widely documented on the global stage. World leaders have committed to shifting towards a more sustainable future. This is a responsibility for everyone in the industry, regardless of size, and we are determined to play our part.  

"As a long-established business, our success has always been anchored to our core values, including taking responsibility for our actions.  

"By joining forces with Play It Green, we are showing our commitment to building upon our existing initiatives to tackle and reduce the environmental impact of our work. 

"We recognise that there is no quick fix, and that positive results will come from concerted effort, but we are fully committed to a strategic and determined approach to achieve our net zero target by 2038. Our partnership with Play It Green is a positive step on that journey and will help us make a tangible difference.

"Play It Green shares our values and has a straightforward and transparent approach, making it a natural fit for us. I have no doubt that our fantastic team will engage with the Climate Positive Workforce programme, ensuring that environmental and sustainability considerations are further embedded in our culture."
Chris Thair, chief executive of Play It Green, said:
"We're thrilled to welcome MC Construction into our community.

"The Climate Positive Workforce service now moves them to the next level by continually educating and rewarding their staff, giving them the knowledge, drive and tools to bring innovation and further positive action within the business.

"Our model significantly boosts our members' ESG credentials, helping them move to net zero and make a positive ongoing environmental and social impact.

"We look forward to working with MC Construction and creating a brighter future for their business, local community and the planet."