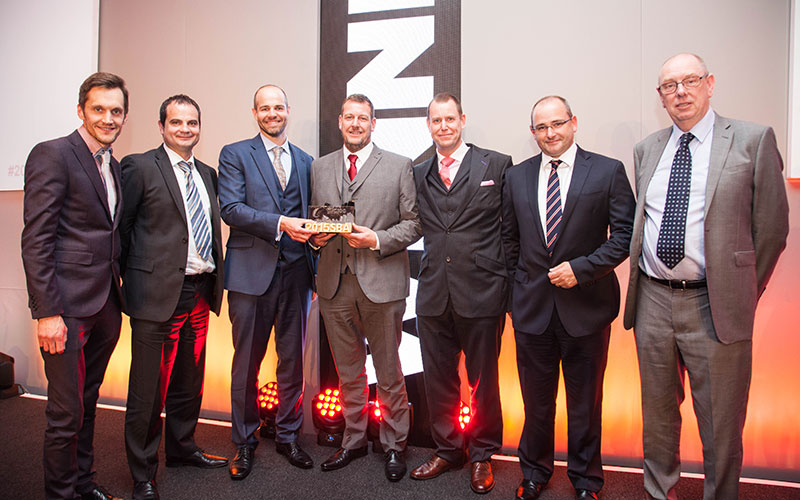 Manchester and Cheshire Construction Company is proud to announce it has won both the 'Excellence' and 'Best Employer' Awards at the 2015 Salford Business Awards. The contractor received the good news at the award ceremony on Thursday, 21 May at the AJ Bell Stadium, Barton-upon-Irwell.
With over 8,700 businesses operating in the city, and a record number of entries to this year's awards, winning in such prestigious categories is an incredible achievement.
Entrants for the Excellence award were to show exceptional standards of leadership, planning, analysis, people management and customer-led focus. Manchester and Cheshire Construction demonstrated their strength in these areas through a strong set of core values underpinned by behavioural competencies, a stimulating and supportive workplace and the fact that over 90% of the last three years' revenue stemmed from repeat business of highly satisfied clients.
The Best Employer Award recognises organisations that ensure their employees are at the heart of their success. Entrants are expected to show how they invest in staff, engage and include them in the business and outline what it is they do that makes for a happy and healthy workforce.
This is not the first time the building and refurbishment specialist has received outside recognition; it was awarded the first ever Salford City Mayor's Charter Mark – a benchmark designed to help raise employment standards for employees and businesses across the city.
With a direct labour policy deeply ingrained in the company's 44-year history, an average length of service of over 10 years, heavy investment in training and a strong progression culture, the company is truly people-centric; a quality to which it attributes much of its success.
Dave Lowe, Managing Director, explains their philosophy:
'We are delighted to have won these awards. Throughout the lifespan of the business we have continually invested in our people, believing that loyalty is a two-way process and the long-term driver of success.'
With the business on course for an increase in turnover for the sixth year running, Manchester and Cheshire Construction cites a revenue target of £20m by the year 2018.