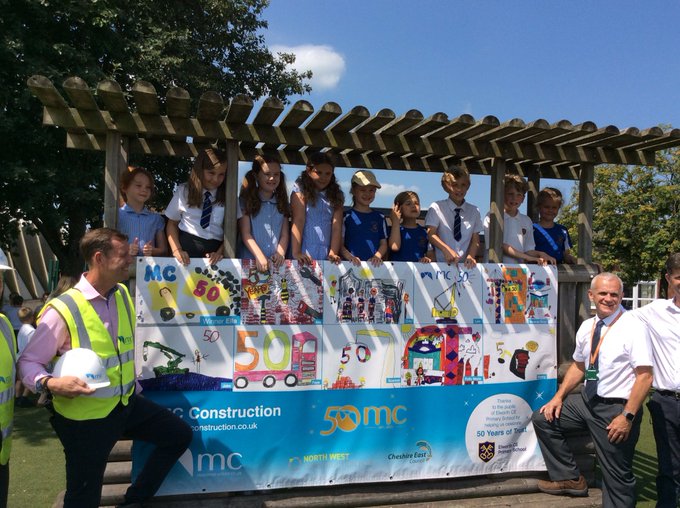 At long last we had the opportunity to thank talented pupils of Elworth CE School, in person, for their contribution to our golden jubilee celebrations.
At an outdoor event held on Tuesday, 20th July MC Construction's managing director, Dave Lowe and contracts manager, Paul Harris, joined staff and pupils of the Sandbach primary to unveil a banner made with winning entries to a drawing competition. The banner was paraded during the afternoon's end-of-term festivities and children were gifted laminated versions as prizes.
Early in the academic year pupils had entered the contest which asked for pictures on the theme of our 50-year anniversary. We were impressed with the striking submissions and selected ten winning entries showing cranes, trucks and tools to help us celebrate fifty years of business.
We created a poster featuring these fantastic drawings along with a message thanking the children for helping us to mark our special occasion. A super-sized version of this poster has been mounted on a billboard right outside our Salford headquarters since early this year. Staff and visitors to the office have commented on the how the 6205 x 3100 mm colourful creation has made them smile as they approach the building.
Neil Garratt, head teacher, said:
"The children have been really excited watching the building works progress throughout the year and I think that this showed in the quality of the art competition entries. Thanks go to Manchester and Cheshire for including the children in making the building extension fun for them."
Barrie Pitt, chair of governors, commented:
"The building works at school have produced a whole new level of facilities at Elworth CE Primary School. The banner will be displayed in the lobby area to the new extension for parents and visitors to admire as they come into the building. I have received numerous 'thank you' comments from the children for their new classrooms and the colourful banner will display the children's work admirably."
We have been working at Elworth CE Primary since September where we have built a four-classroom extension, new toilets, offices and other facilities. The project, which also includes the creation of sports pitches and courts is due to complete shortly.
Dave Lowe, Managing Director, said:
"Working at Elworth CE School has been an absolute pleasure and we are delighted that pupils helped in our Golden Anniversary celebrations. Entries to the competition were of a very high standard and we had quite a task selecting the winners. This cheery poster has adorned a billboard on the side of our office since early in the year and it was great to see the pupils today and thank them for their efforts."
MC Construction undertook the project at Elworth School to boost education provision from 315 to 420 school places in the expanding residential area in Sandbach. We were appointed by Cheshire East Council through the North West Construction Hub Framework.