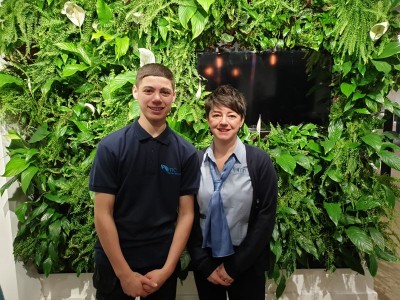 This week is National Apprenticeship Week (4 to 8 March) which is dedicated to celebrating apprentices and apprenticeships, to which we want to contribute with a story of our own.
Our apprenticeship story involves both Hazel and Leyton Lovell, the mother and son dream team that work with both MC Construction and MC Facilities. Hazel has been working for MC Construction for over 20 years now and is an invaluable member of the team. After taking advice from her careers adviser in high school and completing training Hazel was approached by MC Construction with an NVQ Admin Apprenticeship. She has since worked up through the company and has had roles in various departments before becoming the Procurement Manager.
Leyton, Hazel's son, has had a very similar route of development, from speaking to his career adviser at high school to then being offered an apprenticeship with MC Facilities. Leyton is completing his 'Multi-Trade Course' which helps develop his skills in many different areas on site over the course of 2 years. He has a one-day release at college and then the rest of the week is dedicated to working on site. Leyton noted that:
'After 6 months, I will have experience of all trades to help me decide which route I should go down'
After recently being qualified in using small power tools on site Leyton is excited for the coming months gaining more responsibilities and developing his skills – something that his mother is very proud of.
We asked Leyton what it was like working for the same company as his mother:
'As my mum works for MC Construction and I work for MC Facilities, it doesn't really feel like I'm working with my mum as she is office based and I am site based. I like this though, because it gives me independence, but it is really nice to see her when I call into the office!'
The same ethos that brought our MD Dave Lowe into the company as an apprentice over 35 years ago is still as important as ever to the company.
To celebrate National Apprenticeship Week, we asked Hazel and Leyton to share their views on apprenticeships. Hazel stated:
'I encourage people to enrol on an apprenticeship as you get both the in-depth learning from the college as well as the work experience on site, whilst also having your own income and responsibilities'.
As Leyton suggests apprenticeships also provide a good all round experience before concentrating on one key skill or area.
'I would recommend 'multi trade' as a good path to choose as you are open to learn many new skills and over the course you choose specific areas which you want to focus on'.