Manchester's Inbound Plane Impact Miss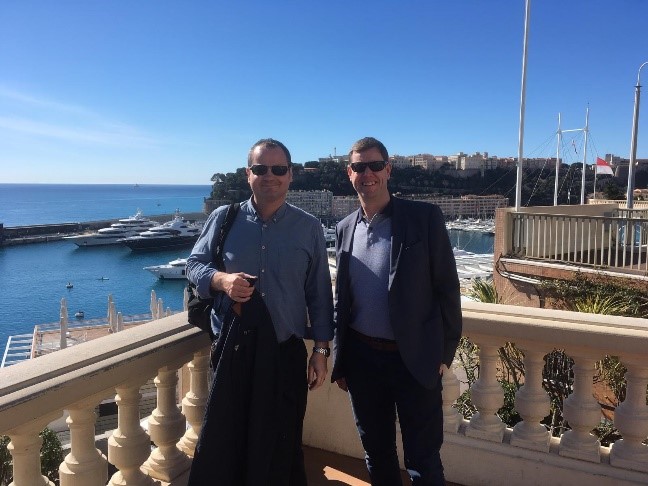 One thing we didn't expect on our first day on route to MIPIM was the scary experience of an aborted landing, which was a first (and hopefully a last) for myself an fellow director Mike Purcell.
With the wheels almost about to touch the tarmac our plane was hit by a huge gust of wind and the plane pitched hard left forcing the pilot to pull back up fast to avoid a disaster.  We then diverted to Genoa, Italy, where we landed safely. I'm guessing there were a few 'squeaky bums' but with the majority of Manchester's biggest and most influential business leaders on board everyone appeared to be playing it down. Now safely on terra firma, thinking I'd happily settle for a lengthy train / coach ride back to Nice, I heard the dreaded words over the intercom;
"Ladies and gentlemen we believe the winds have now improved slightly at Nice Airport and we will shortly be heading back to have another go!"
Thankfully, the second approach was better and we 'made it' arriving safe and sound albeit a little shaken up. Like many that evening we opted for some alcohol-related pain relief as we had lived to tell the tale. On the subject of 'tales,' as the week went on, the flight details became more and more exaggerated – one tale included the co-pilot fainting during the aborted landing. The story even made the press! If nothing else it made great chat amongst the delegates and it felt like a badge of honour as people asked;
"OMG, were you on the 'Manchester' flight?"
MIPIM 2019 was indeed as good as previous years and as a proud associate sponsor of the Manchester delegation the Manchester Pavilion was back to its best; packed with architects, developers, contractors, PM's, QS's, engineers and significant leaders from businesses and local authorities. Access to these people is what MIPIM is all about for me. Where else can you share a drink and chat – really building a relationship with the people making significant decisions about improving our city?
I caught up with existing colleagues and made some great new contacts that will, I'm sure, continue to see our company succeed in all three areas of the business; Main contracts, Facilities services and our development arm 'Victor.'
This was my third year and Mike's fourth. Both of us felt more relaxed than ever (this had nothing to do with alcohol BTW) and we had some very successful as well as very pleasant meetings.
The highlight for me was the evening dinner, which comes as part of travelling with 'team Manchester' and once again we were sat next to / on the same table as some very influential people, the majority of whom are just normal, wanting like us the best for the city of Manchester.
It's difficult to accurately relate the cost of attending MIPIM against specific work streams but both Mike and I are confident this trip is invaluable to our growing business and we will continue to attend; in fact we have already booked our accommodation for next year's trip – but not our flights!
Dave Lowe, Managing Director