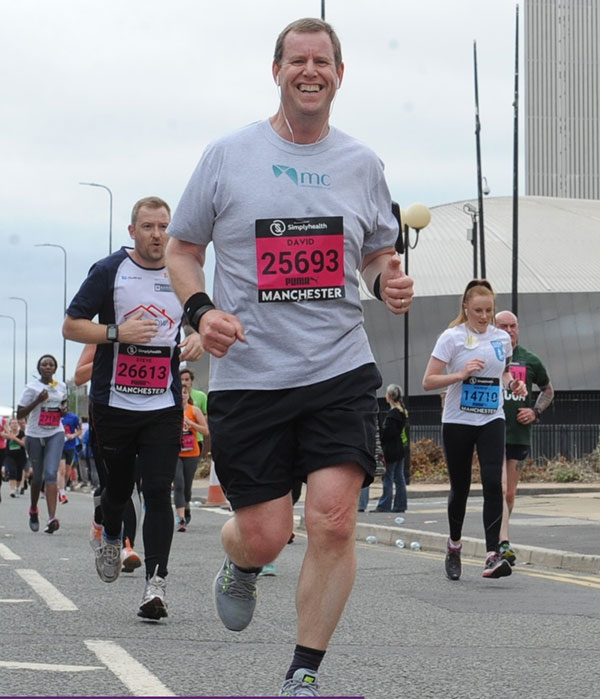 David Lowe, the managing director of MC Construction, raised £750 for Broughton House by completing the Great Manchester 10k run – his first competitive race.
Accepting a challenge from fellow director Chris Purcell and nursing a desire to get fit and lose weight, David trained for the race with his pet Border terrier Charlie.
Nine-year-old Charlie is named after the firm's co-founder Charlie Lowe and belongs to his son, managing director David.
His hard work paid off, as he completed the run in an impressive time of 57:05.
David said:
'While I walk 30 miles a week with Charlie, I'd never done a competitive run, so it was certainly a challenge'
'Charlie accompanied me on many early morning training sessions, which to be honest were more of a fast walk than a run.'
'During those early morning sessions, I did wonder why on earth I'd agreed to take up Chris's challenge, but Broughton House does great work so the opportunity to raise money for a wonderful cause spurred me on.'
'I felt an immense sense of pride and was extremely emotional as I stood on the starting line with thousands of defiant runners just a few days after the Manchester Arena attack.'
'It was a very warm day, but the crowds lining the route were fantastic in cheering everyone on, and they inspired me to sprint to the finishing line!'
Broughton House, the Salford home for ex-servicemen and women, is MC Construction's chosen charity.