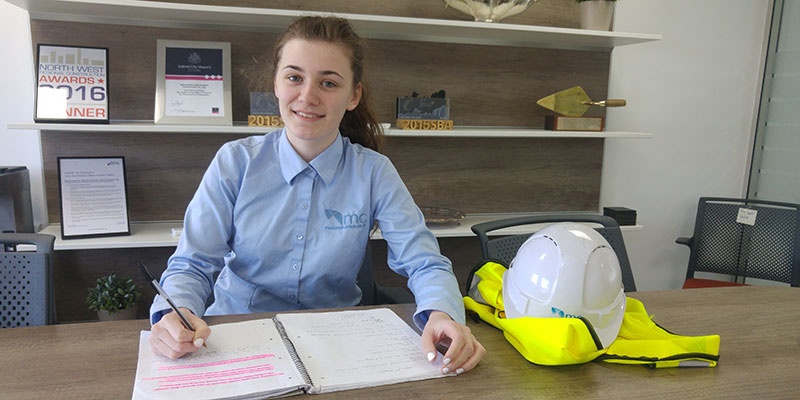 About Me
I am Georgia Tennant and I am an 18-year-old apprentice quantity surveyor. I am close to completing a Level 3 BTEC and NVQ Diploma in Construction and the Built Environment. Before I began my A-levels, I decided to look for an apprenticeship in the construction industry.
My family are involved in construction and I share their passion for the industry. Two of my brothers are quantity surveyors.
I originally wanted to be an architect, but seven years of study changed my mind! I noticed that there was an apprenticeship going locally at MC Construction and I applied for the role. The Level 3 BTEC is equivalent to A-levels, and I was more attracted to this, as I wanted to learn both the theory side and practicalities of the job.
The beginning of my apprenticeship
When I started my apprenticeship, I was only 16. I had gone from being around my friends 5 days a week to not knowing anybody and dealing with people of all ages. I didn't think I was going to interact much with many people who were a lot older than me – it was a completely new experience for me. I was nervous, because I didn't know whether the workload was going to be too much to handle alongside my college work. When I started, I was very quiet, as I was getting used to my surroundings, work area and my new colleagues. I started to settle down after a few weeks and began to come out of my shell. Everybody was very kind and welcoming. I started to look forward more and more to coming to work, as every day presented a new challenge and I enjoyed being with my colleagues.
What I have completed up to now
I am approaching the last term of my second and final year of the Level 3 Diploma and NVQ. I have completed nine units out of 12 in total, and I have nearly completed my NVQ, for which I am assessed by collecting evidence and completing knowledge questions to do with my job. I have completed 6 months in the accounts department with MC Construction. I have also undertaken the role of assistant buyer over the last year. I have now started in the estimating department once a week, which will gradually increase to full-time.
My proudest achievement yet
My proudest achievement has been achieving each of my objectives that I have been set in my annual reviews. Some of these have been challenging, but I believe that putting in the extra work and showing commitment have helped me. When realising that I have met all my objectives with no problems in my reviews, it feels a huge achievement and shows that I am on target and capable of doing my job properly. The more objectives that I am set for the future, the more my motivation will be, as I will be learning more and it will benefit the theoretical side of the job as well as the practical. I am also proud of achieving Merit and Distinction grades in various units of my college work, such as Health and Safety, Construction Technology and Building Regulations.
Being part of MC Construction is incredible, because it feels like everyone is part of your family. Everybody is so close and genuine and is up for a good laugh. With the new extension being an open plan area, the family feel is even stronger, but people understand when you are at your busiest periods throughout the day they know not to bother you unless necessary. We all work as a team. This is important as it ensures that we deliver projects to our clients on time and to the highest standard. I feel privileged to continue my education at MC Construction, as they watch me grow as the company grows too.