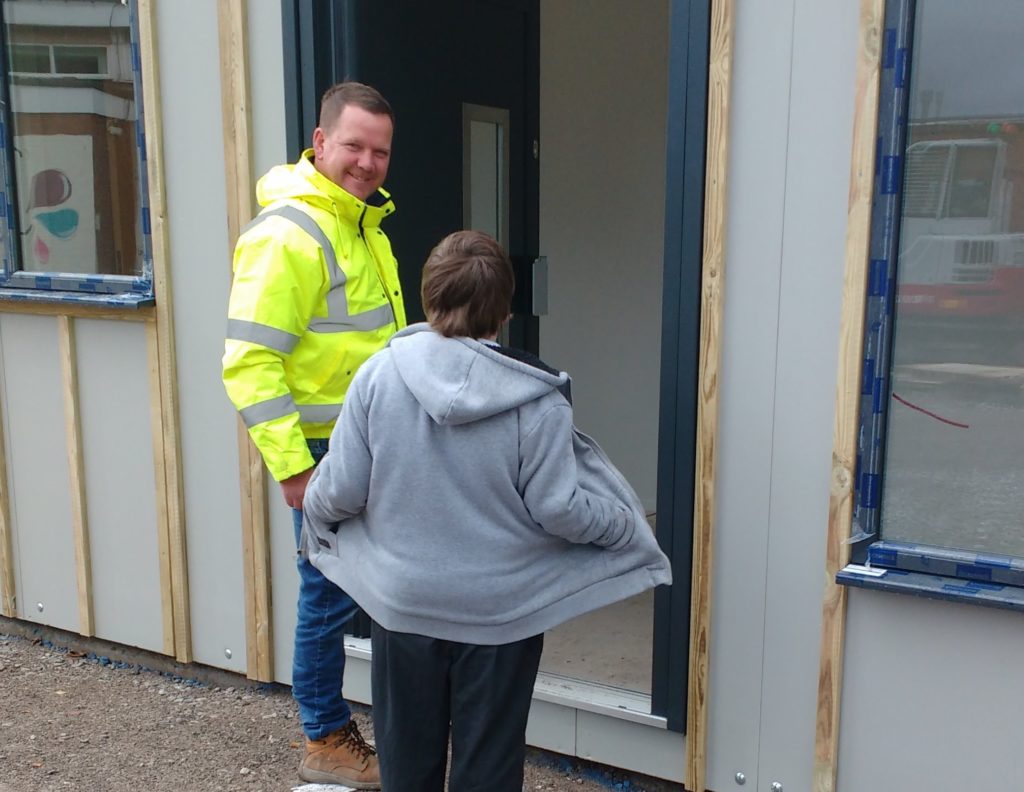 Site Manager Aaron Cain was recently taken on a tour of a 40,000 sq. ft. factory in St Helens, Merseyside, belonging to modular building company Springfield. Aaron was pleased to report on the quality and progress of two modular classrooms designated for Park Lane Special School in Macclesfield. The extra facilities are a result of Cheshire East Council stipulating further places are needed for children with Special Educational Needs for this academic year.

MC Construction was appointed to the project by Cheshire East Council under the NW Construction Hub framework. Through this arrangement we have now provided temporary, emergency classrooms with associated hygiene room, toilets, utility room and storage as well as external tarmac and paving.

Modular buildings are sectional structures, built off-site, transported to wherever required and fastened together to form a finished build. The classrooms were assembled quickly and building off-site meant minimal disruption and removed any potential health and safety hazards for staff and children at the SEN School.

A modular solution was selected as a temporary arrangement in this instance. However, the Department For Education is increasingly turning to modular construction for provision of permanent structures, where schools are looking to extend or build new areas. Proponents cite reasons of speed, cost, stringent quality control, sustainable materials and overall waste reduction. Once in-situ, the buildings are thought to provide a safe, comfortable and quality learning environment.

Springfield worked with MC Construction to match the specialised nature of requirements for the school and together we co-ordinated delivery. When the new facilities arrived Aaron was delighted to show the children who were suitably impressed. The finished structure comprises a two-classroom building along with central toilet facilities including a bathing and changing room. A combination of special Hardie Panel and Trespa cladding was selected to provide a unique exterior that is in keeping with the school setting.

Combining knowledge of modern methods of construction with our 50 years of experience in bricks and mortar, traditional refurbishment and new build methodology aligns with our long-term vision and ensures we are fit for the future. We are now looking forward to handing over the modular classrooms and making a start on the permanent classroom block extension.