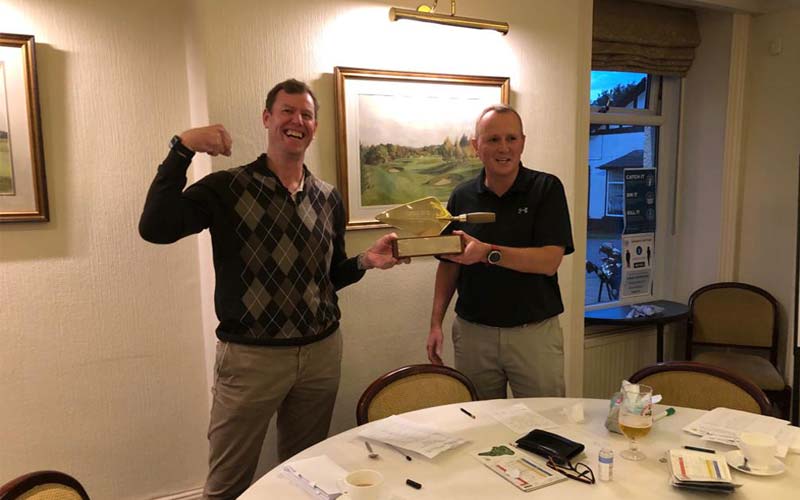 Come rain or shine MC Construction and Marston & Grundy have held their annual golf tournament, the Golden Trowel, every year since 1985. We were truly miffed when it looked like the much loved, springtime contest wouldn't happen on account of the Coronavirus pandemic. Originally scheduled for 13th May, the country-wide lockdown meant cancellation of this key fixture in both of the companies' calendars. The moment we had word that restrictions on outdoor sports were lifting we set a date of 23rd September at a new venue for us – the spectacular Stockport Golf Club.
A total of 24 entrants took part, teeing off from around midday in a covid-safe format in accordance with the latest government guidance. MC Construction's team comprised 12 of our valued clients and associates. In what was yet another closely fought contest we retained the trophy and went on to enjoy a socially-distanced meal and a carefully coordinated presentation ceremony, without a handshake in the room.
Once again it was all for a good cause. We raised £800 which we match-funded to handover a total of £1,600 to Prostate Cancer UK ,who fund vital research into testing and treatment for the UK's most common form of cancer in males.
We are delighted to have defended the trowel and will take pleasure in it sitting in our John Purcell Suite for another 12 months.
The friendly competition between MC Construction and Marston & Grundy structural and civil consulting engineers has been going strong for 36 years. As MC Construction approaches its 50th anniversary year we're ready for the 2021 event to be crowned "The Golden, Golden Trowel."