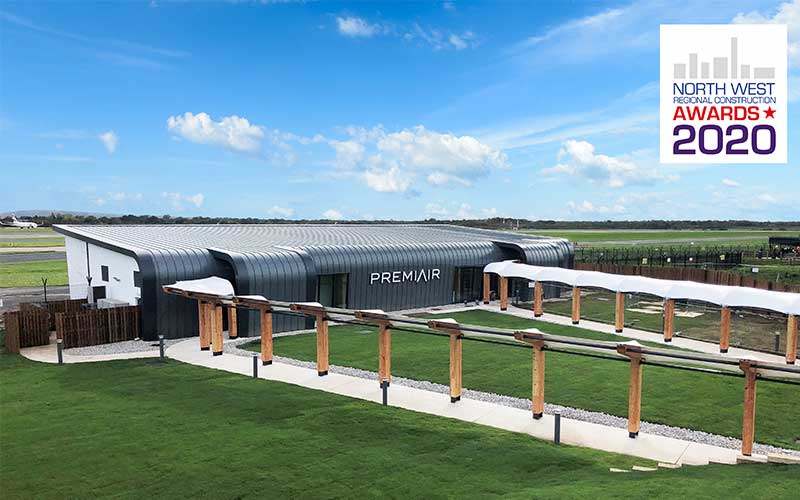 New build project PremiAir for Manchester Airports Group (MAG) has been shortlisted for Sub-Regional Project of the Year 2020 at The North West Regional Construction Awards (NWRCA). PremiAir is the new private terminal of Manchester Airport offering a luxury environment and streamlined departure and arrival service for passengers. MC Construction delivered the terminal building on budget, within the allocated 37-week time schedule and to exacting quality standards.
This prestigious award is based on delivering outstanding outcomes for all involved in the construction project and showcases the benefits achieved through the application of principles described in the other categories. MC Construction was able to clearly demonstrate the project met each of the specified criterion.
The submission outlined the unique set of challenges associated with creating a new structure within 75 ft of a working runway and how they were overcome. Solutions rested on collaboration with all parties involved to mitigate disruption to multiple 24-hour airport services and coordinate works alongside a heavy and fluctuating flight schedule.
The award entry also explained how numerous design changes were accommodated through innovation, technical achievement and best practice. An optimised aspect, choice of natural materials and the project's carbon reduction targets provided evidence of the reduced environmental impact that the judges had stipulated.
Responding to a question on stakeholders' reactions to the work, MAG had stated:
"Since opening PremiAir in October 2019, we've received outstanding feedback and satisfaction."
Travellers had commented on the simple but elegant design, easy-to-navigate layout and enhanced accessibility.
Dave Lowe, managing director of MC Construction said:
"We're proud to have been shortlisted for delivery of this project which is a landmark building for our client and for the North West. It is testament to the tenacity of our team that the NWRCA panel acknowledged the skills required to deal with the unique and challenging set of circumstances this project presented."
Constructing Excellence is a membership-led platform for industry improvement. With eight regional centres under a national governance structure it acts as a bridge between industry, clients, government and the research community. The renowned awards programme is an integral part of the movement and provides a showcase of excellence across England and Wales.